5 FIVE QUESTIONS YOU SHOULD ASK BEFORE CHOOSING A DRIVING INSTRUCTOR
(1) Why shouldn't I just choose the cheapest instructor I can find?
Choosing the cheapest instructor may mean you are not going to receive the best tuition. Cheap lessons are solely offered to entice new pupils. It may well work out that you will pay more in the long run as not all instructors will give value for money We give a very, very good lesson for a fair price and our honest opinions about applying for a test may mean less lessons.

(2) How important is an instructors pass rate?
There is no evidence to substantiate instructors' pass rates and therefore some instructors may upgrade their capability. Our pass rate is well above average and the majority of pupils who start with us from the beginning usually pass first time.

(3) What references can you provide?
Ross is an Approved Driving Instructor (ADI) and the fact that ABC has been going for over forty years speaks for itself. Our name has been given to family and friends of those who have been taught by Robert, Harry and Ross. Read through the testimonials from those who have passed with us. Our business has been run on word of mouth and we have never advertised.

(4) How do I know you'll be the right instructor for me?
We have provided thousands of people of all ages and abilities with driving lessons in Corby, from the extremely nervous to the very confident as well as those with disabilities. Therefore the instructors at ABC Driving School will tailor their tuition for each individual pupil and develop their driving skills in as few driving lessons as possible.

(5) How long has the school been established?
ABC Driving School in Corby was first started in 1965 by Robert Ferguson and became a thriving business helping people through their test with ease. He taught his son, Harry, how to instruct, who then passed the examination in 1970 and worked alongside his Dad until Robert retired in 1984. Just recently Harry's son has now joined ABC Driving School, passing the qualifications needed after he was taught by his Dad, Harry. Making ABC Driving School a three generation business teaching three generations in Corby and surrounding villages. So for quality driving lessons in Corby from fully qualified experienced driving instructors please feel free to contact us anytime on 01536 461575 we are always happy to help you and will answer any questions you may have.
(6) How to I avoid waiting months for a driving test?
We work with driving test cancellation companies such as DrivingScout in order to provide earlier driving tests.
Want to learn to drive an automatic car? We now also offer automatic car lessons teaching you all you need to know to get out on the open road
Learning to drive an automatic car can be very appealing. For many it's much easier to master than a manual car, and can allow you to improve a lot quicker, meaning that you will spend less time and money learning, and more time driving.

Driving an automatic car means you never stall, and never roll back on hills, increasing your confidence on the road.

The car chooses the gear for you, leaving you to concentrate on observation and the control of your vehicle, making driving much easier. Please see out Lessons page for prices or call us to book now.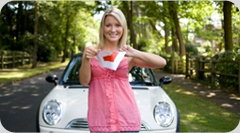 Our commitment to you:
1) We will be HONEST
2) We'll put you in for your test as soon as you are ready
3) We'll be professional, courteous and polite at all times
4) Our first priority is to help you
become a good safe driver
5) You will have the full attention of the driving instructor with no interruptions for the duration of your lesson,